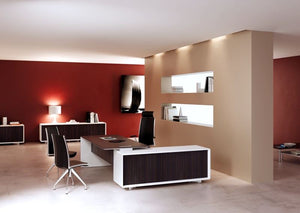 Executive
When you've reached the mountaintop, before you set out to do the monumental task of leading your company or organization, there needs to be a chair that will allow you to put your feet up and get comfortable during the brief moments of respite between meetings. 
There needs to be a stolid desk that allows you to project your own version of power and authority to those that step into your office. And finally, there needs to be an impression. Whatever impression you decide to project: strength and power, humility and respect, collaboration and teamwork or a combination of any of those, this is where that impression begins.
You may also email us at sales@gentleprince.com, contact us on SMS or Viber at +639178866095 or +639178866093. You may also call us on our landlines at (02)79663431 or (02)85211850 or chat us with using the message button on the lower right corner of your screen.