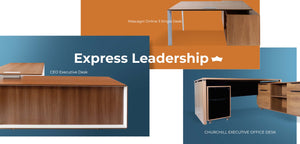 Express Leadership
Leadership is not just about being at the head of an organization, it is about inspiring people to rise up and become greater than who they are and greater than the sum of the organization's parts.
As a leader of your organization whether a large Corporation, small business or even a Not-For Profit, you need a space that expresses your leadership.
Start leading today, get your desk from Gentleprince.
You may also email us at sales@gentleprince.com, contact us on SMS or Viber at +639178866095 or +639178866093. You may also call us on our landlines at (02)79663431 or (02)85211850 or chat us with using the message button on the lower right corner of your screen.